MEET THE WORLD'S ONLY DEAF DISC JOCKEY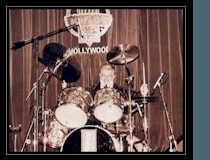 WHITTIER, Calif. (Wireless Flash) -- Just because a person is hearing-impaired doesn't mean they can't work as a radio disc jockey. Case in point: Russell Luzio, who calls himself the world's first deaf disc jockey. Luzio only has 1% of his hearing and hosts a weekly internet blues show at

BluesWithRussell.com/previous

. He claims he can tell a hit song instantly just from the vibrations generated by a loudspeaker. Luzio also uses special super-amplified headphones to conduct artist interviews and take live phone calls like any other jock. He may be the world's only deaf disc jockey right now but he hopes to start a broadcasting school for hearing-impaired children.